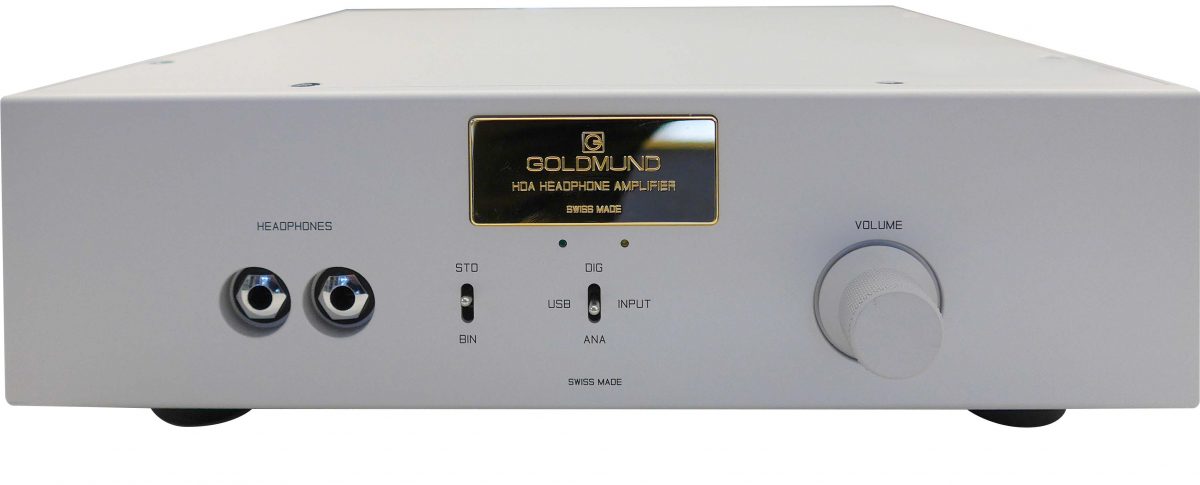 London based 'boutique' hi-fi dealer Sonata, is showcasing the high-end Goldmund Telos 'Reference' DAC/Headphone Amp at the Headroom Show on the 24th and 25th March 2017.
Goldmund, a company that is recognised throughout the world for producing the finest audio equipment, has modified and improved their original Telos Headphone Amplifier (which was a huge success and won a '6 Moons' Award) resulting in the extraordinary Telos THA2.
The new Telos THA2 model can still drive any headphone, even the least sensitive ones and adapt to any impedance. It still brings exceptional dynamics, providing a unique linearity and perfect channel balance.
However, the new model now comes with a unique feature that will ravish headphone aficionados: the binaural encoding.
This encoding uses DSP algorithms that transform standard recordings into binaural. Any normal audio track can benefit from this feature thanks to a simple switch on the front panel of the amplifier. In addition to a clear sense of depth, this feature greatly improves the natural balance between the instruments and provides a completely clear picture of the layout of the orchestra or band.
The listening experience becomes much more deeply immersive and realistic with a less fatiguing and more spacious presentation.
With extreme, time coherent performance, DSD over PCM capabilities, new binaural features and customisation possibilities, the THA2 will undoubtedly remain the reference in terms of headphone amplification for a very long time.
The opportunity to hear the Goldmund THA2 is definitely something not to be missed by show-goers making their way over to Chiswick, West London.
Renowned for their precision, Goldmund follow the manufacturing processes used by famous Swiss watchmakers. They insist on the absolute purity of the materials used, sourcing each element of their products from the most expert Swiss companies. Some of these specialist companies only work with a few selected clients such as Rolex, Patek Philippe and Goldmund.
Sonata is delighted to be the sole UK distributor for Goldmund, representing their unique products and we're excited to be introducing the brand at this year's Headroom Show.
– Ends –
Notes to Editor:
About Sonata Hi-Fi
Sonata is a specialist hi-fi 'boutique' situated in North West London.
Based in a beautiful converted church, Sonata's bespoke consultation service tailors hi-fi systems that fit individual lifestyles, needs, and 'ideal sound' perceptions.
Working on an appointment only basis, the Sonata team create an atmosphere, which is relaxed, friendly, welcoming and always filled with music.
With backgrounds in the music industry and sound engineering, music lies at the heart of the Sonata team and it's the daily driving force and inspiration behind everything they do.
This music industry experience has given them the tools they need to help select, install and commission the finest audio products in the world.
For more information visit Sonata online at www.sonatahifi.com or contact:
Robert Wilson
Tel: 07849 643 623
Yvonne Hawkey
Tel: 07958 993 940
About Goldmund
Founded in 1978, Goldmund has set the standard for ultra-luxury audio products worldwide by allying the most advanced technologies to the utmost quality of materials and customised services.
The company's exceptional product design is matched by its industry-leading commitment to fundamental research in audio performance. Employing a team of electro-acoustic experts, Goldmund developed industry firsts such as wireless music distribution, mechanical grounding, extreme multichannel processing and many more.
At the forefront of the luxury audio marketplace, Goldmund offers ultimate stereo and home cinema systems and has developed lifestyle lines providing a unique performance while simplifying customers' lives with wireless systems.
For more information visit Goldmund online at www.goldmund.com or contact:
Anne-Karine Agius
Goldmund International
Marketing Department
Tel: +377 93 50 66 05